virtual sports week
key stage 2
key stage 1
Click on the image below to be taken to Jasmineactive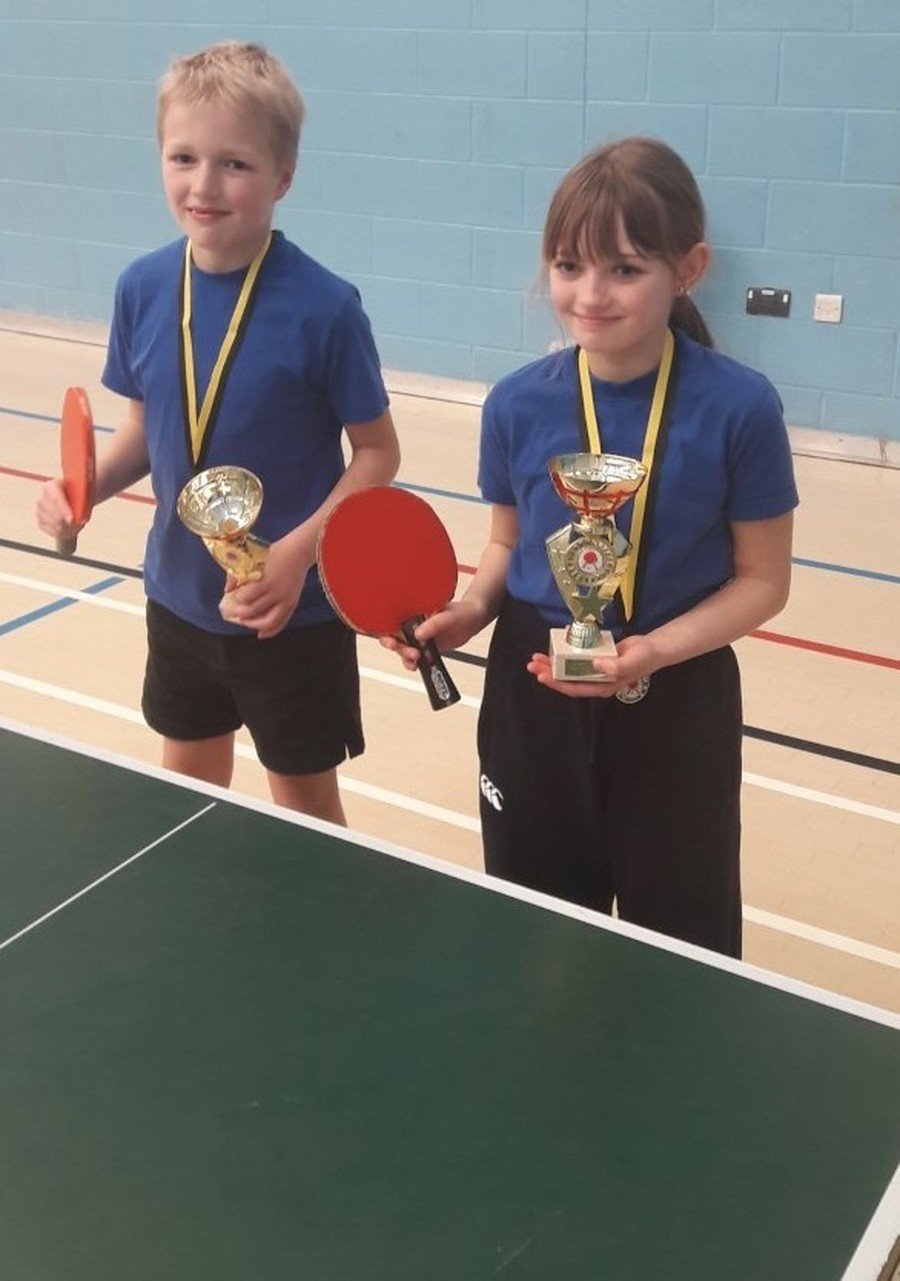 Rising stars Ry and Sophie have qualified to represent Cornwall at the 29th Butterfly Schools'Individual Table Tennis Championships National Finals
Penwith Primary Schools Football Cup
Our boys football team recently took part in the Penwith Primary Schools Cup held at Mounts Bay Academy.
The team played four league games, winning three and narrowly losing one. With these results they found themselves up against St Mary School, Penzance in the final.
In a tight game, a goal from Logan C was enough to see the boys over-the-line and claim the trophy.
There were some great performances throughout the competition and the boys bonded well as a team.
Team: Harvey P, Thomas T, Tom W, Ry J, Gabriel C, Bobby Y, Logan C, Bradley H, George Y and Otis H.
Well done boys!
T.Broad Shield - Semi Final
On Wednesday 27th, nine boys made the long journey to Tintagel to play our county cup semi-final match.
With our opponents winning their two previous rounds 9 - 3 and 4 - 2, the boys were expecting a tough match. However, after quickly going two - nil up, it became apparent we were in for an easier game than we thought.
At half time the score was 4 - 0 with Riley (Y4) completing a hat-trick. The second half continued in the same vein, with our boys scoring four more goals to make the final score 8 - 0. What a great team performance!
They will now face Mousehole School in the final on Friday 26th April.
Team: Thomas T, Rhys C, Logan C, Bradley H, George Y, Gabriel C, Riley BC, Tom W and Otis H
Penwith Schools (PPE) Football Festival
On Thursday 7th, fourteen boys from years 4, 5 and 6 took part in a number of games against other local schools at Mounts Bay Academy.
The 'Blue' team of Bradley H, Rhys C, Logan C, George Y, Riley BC, Gabriel C and Cameron S won all their games, including 8 - 0 and 4 - 0 victories.
The 'Red' team of Dylan H, Harvey P, Bobby Y, Thomas T, Tom W, Ry J and xxx also played three games winning two and narrowly losing the other.
This was the last of the PPE football festivals hosted by Mounts Bay. Later this term, both teams will return to take part in the PPE Cup tournament.
Cross Country League #4 @ Cape School
After a weather delay of one week, the final cross country league meeting took place at Cape School on Monday 11th. A depleted team consisting of nine runners: Florence G, Macy H, Otis H, Posie P, Emily O, Orla H, Dyan H, Riley BC and Hugh W took part on a windy course.
Winning his fourth race of the year for a clean sweep was year six pupil - Otis H. Throughout the season he has dominated every race collecting four gold medals along the way. Hopefully, he can continue his fine form and do well in the county championships at the end of the month.
Other notable performances came from Orla H (Y5) 5th place; Dylan H (Y4) 6th and Hugh W (9th)
Well done to all runners who have participated this year showing great perseverance and resilience
Penwith Primary Sport - Football Festival
Last Thursday, a squad of nine boys participated in the first of three Penwith Schools Football festivals held at Mounts Bay Academy. The boys played three games, winning two comfortably and narrowly losing one game.
In the first game we took on Gulval. Dominating possession, the boys initially found it tough to find the back of the net. However, with perseverance and good team spirit, they managed to score two goals in the second half to win 2 - 0.
In the second game against Pensans, the team found themselves 3 - 0 down at half time. However, with some re-organisation they showed great spirit to make the score 3 - 3. Unfortunately, Pensans scored with the final kick of the game to claim a 4 - 3 win.
In their final game against St Mary's, the boys claimed a brilliant 5 - 0 win. In this game they played some brilliant football often stringing together several passes which resulted in some great goals.
Team: Logan Curnow, Otis Harper, Bradley Harvey, Rhys Cutting, Tom Wheatley, Ry Johnson, Cameron Sweeny, Harvey Parsons and Gabriel Clarke
Penwith Physical Education (PPE) Group Football Festival No.2
Last Thursday, 14 boys from years 4, 5 and 6 travelled with Mr Kevern and Mr Bowman to Mounts Bay Academy to take part in the second PPE football festival of the year.
Split into two teams (reds and blues) each team played three 10-minute matches.
The red team won two games and narrowly lost one, while the blue team won two games and drew one game.
A great team-spirit was evident throughout the festival with the goals shared evenly around.
Red Team: Rhys C, George Y, Logan C, Otis H, Tom W, Gabriel C and Cameron S.
Blue Team: Bradley H, Harvey P, Thomas T, Ry J, Bobby Y, Riley B-C and Hugh W.
Cornwall Schools FA - County Cup - T.Broad Shield
After receiving a bye in round one, our year six football team travelled to play Shortlanesend School, near Truro in the second round on Monday 21st. Playing on a severely sloping pitch, the boys acquitted themselves well adapting their game to suit. With midfield maestro - Logan - pumping long balls up to striker - George, they were able to bypass the opposition midfield effectively and dominate possession for much of the game. After a goal-less first half, it was Logan who broke the deadlock with a fine shot from distance. In goal, Rhys played his part making a great reflex save when called upon.
The team now progress into the semi-finals which will be played after the February half-term.
pe newsletter - summer term 2018
'Penwith Primary PE Cluster'
latest sporting news and images
Cornish Pirates Festival
As a culmination of 6 weeks of coaching with the Cornish Pirates, 15 pupils from year 6 took part in a festival organised by the Pirates Community Engagement Officer, Sam Teasdale.
Altogether, the children played 6 games, winning 5 and losing only once - a great achievement!
Great teamwork and especially fantastic sportsmanship was shown by all the children.
Piran G said; "I had a brilliant time. I really like rugby!"
Well done to all the players.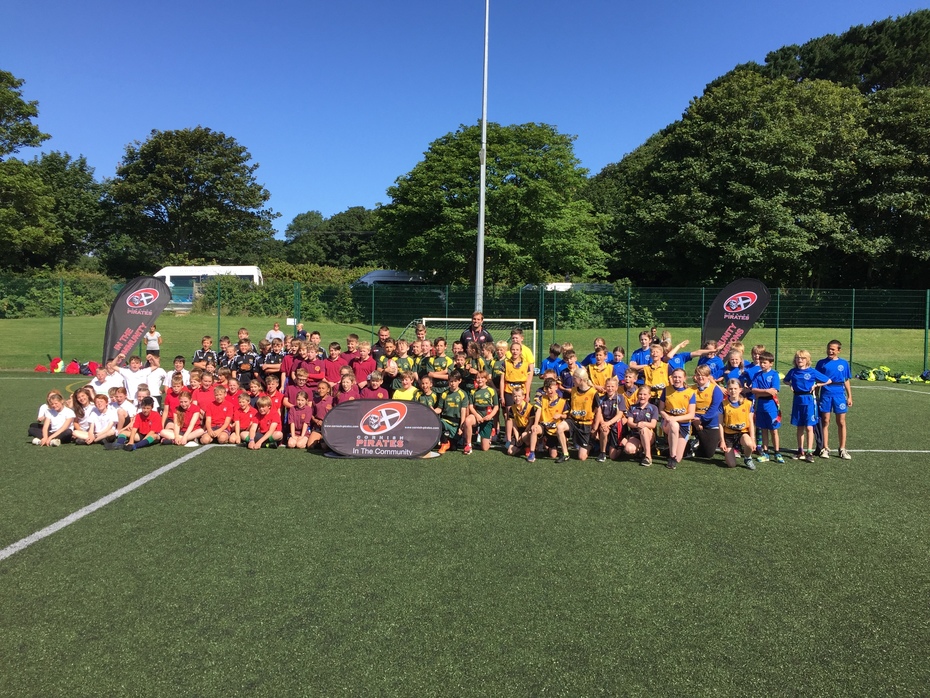 Surf Club - Summer 2017
14 children from years 5 and 6 have this Summer had the opportunity to take part in our annual Surf club.
Throughout the term we have visited local beaches on both the north and south coast where the children have had the opportunity to practice their new skills as well as having a lot of FUN!
Thank you to Global Boarders Surf Company for providing inspiring lessons and most of all making it very enjoyable for all!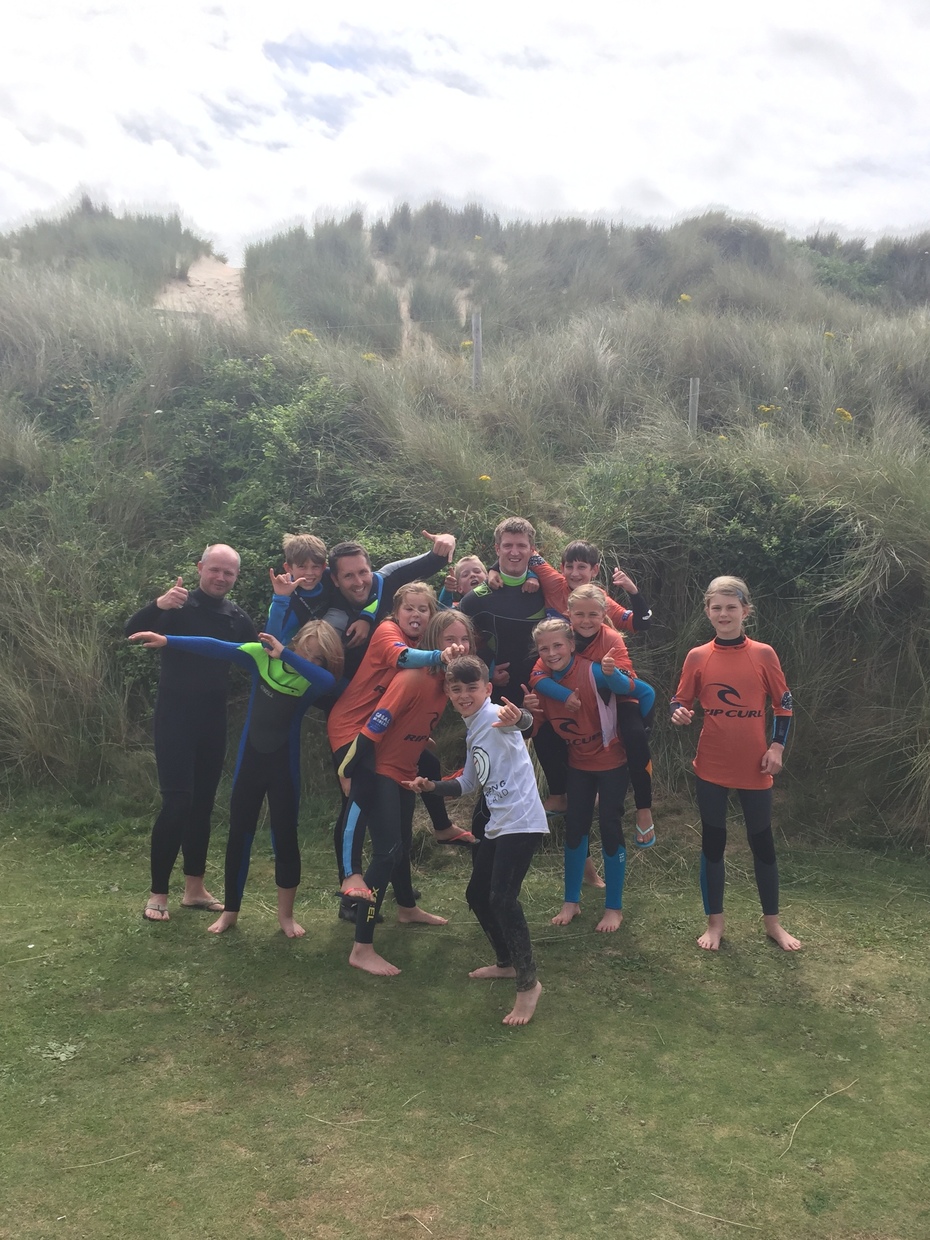 Table Tennis match V Bosvigo School
On Friday 21st April, our A + B teams played a return fixture against Bosvigo School from Truro at home.
The 'A' team won their match 5 - 4, while the 'B' team unluckily lost 9 - 0. Despite this scoreline, every player won at least one 'end' in their best of 3 match. The standard of play was superb across all matches with several members of staff and parents watching on in awe.
A BIG thank you to Mr David May and Mrs Carew for coaching our team and for acting as umpires.
Players: Mari W, George B, Louie S, Finch W, Alina H and Ruby G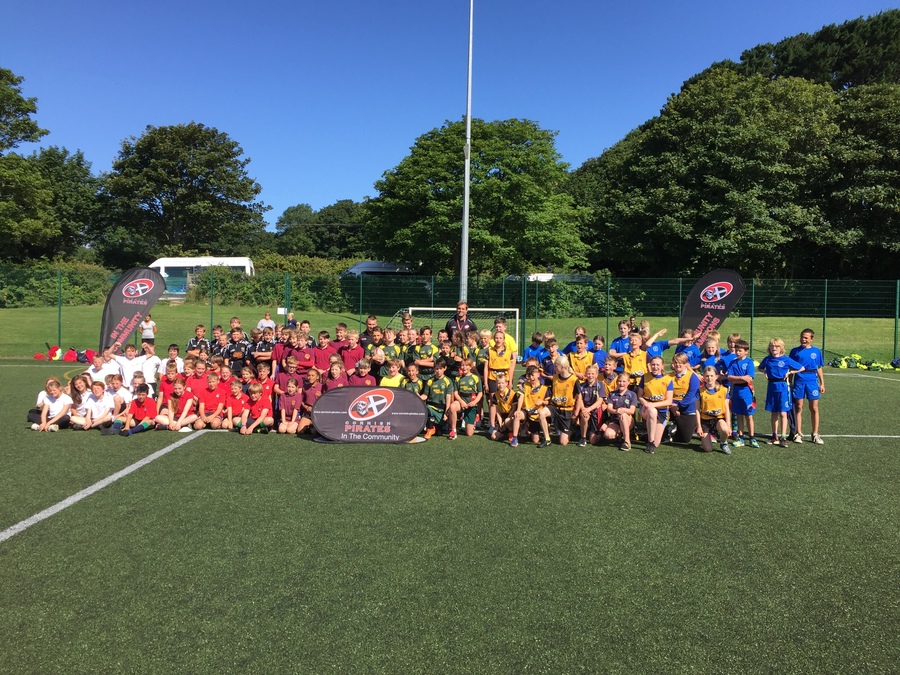 Pupils from year 5 participating in this years 'Chance To Shine' Cricket coaching with coach, Roger Hall, from St Just Cricket Club.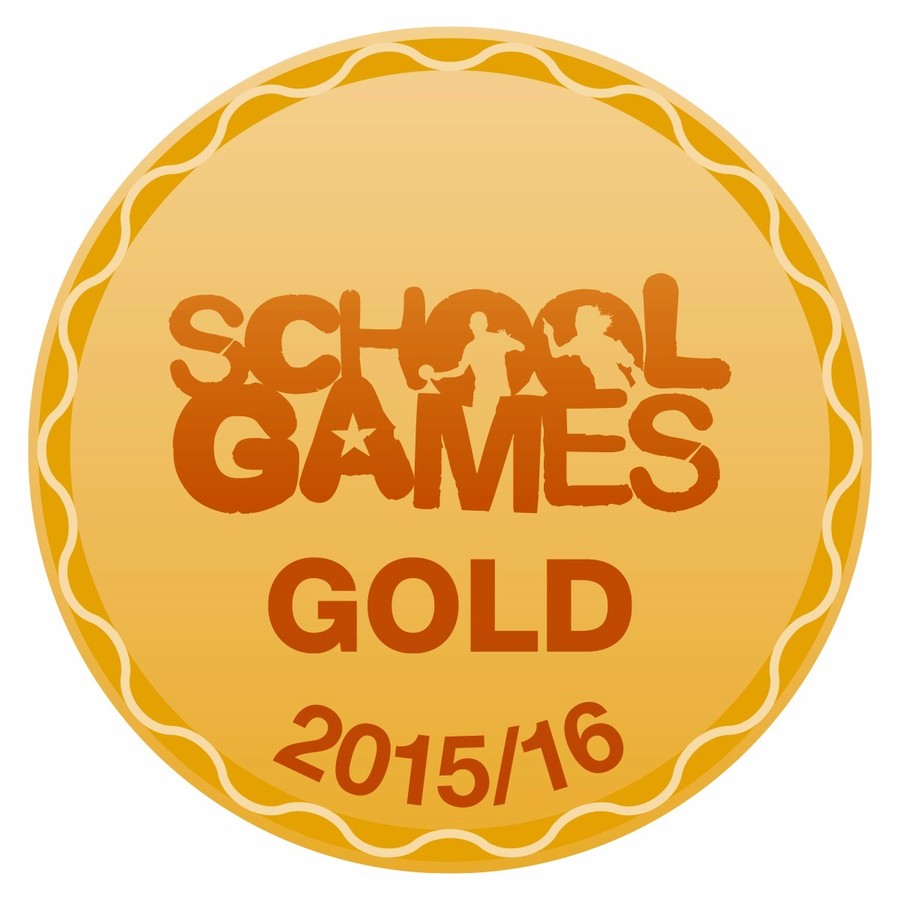 Youth Sports Trust Accreditation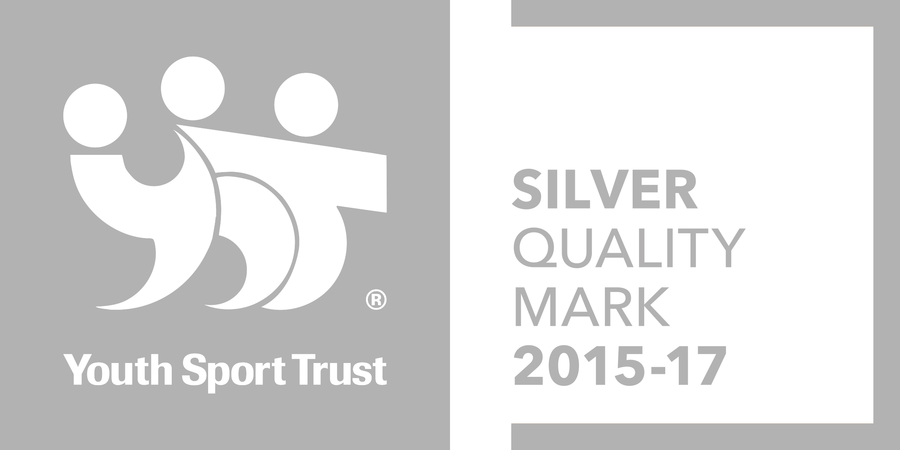 Once again, we are very proud to have been successful in being awarded the Youth Sports Trust Silver Accreditation for the third consecutive year. Well done everyone for your hard work!
Also, we are now a School Games Gold Award winning school - The first primary school in Penwith! Well done!
PE Vision Statement
'Aspire to your Personal Best'
At St Just Primary School we believe PE & School Sport plays an important role in making our PE vision statement a reality for every pupil, with the potential to change young people's lives for the better.
We welcome the government's announcement to provide continued findings for the academic year 2016—2017 to further improve provision of physical education (PE) and sport in primary schools. We are committed to using this resource in developing high quality PE lessons, alongside our continued commitment in providing greater opportunities for sporting competitions and after school clubs for all of our young people.
Yrs 3 + 4 bisi badminton golf medal winners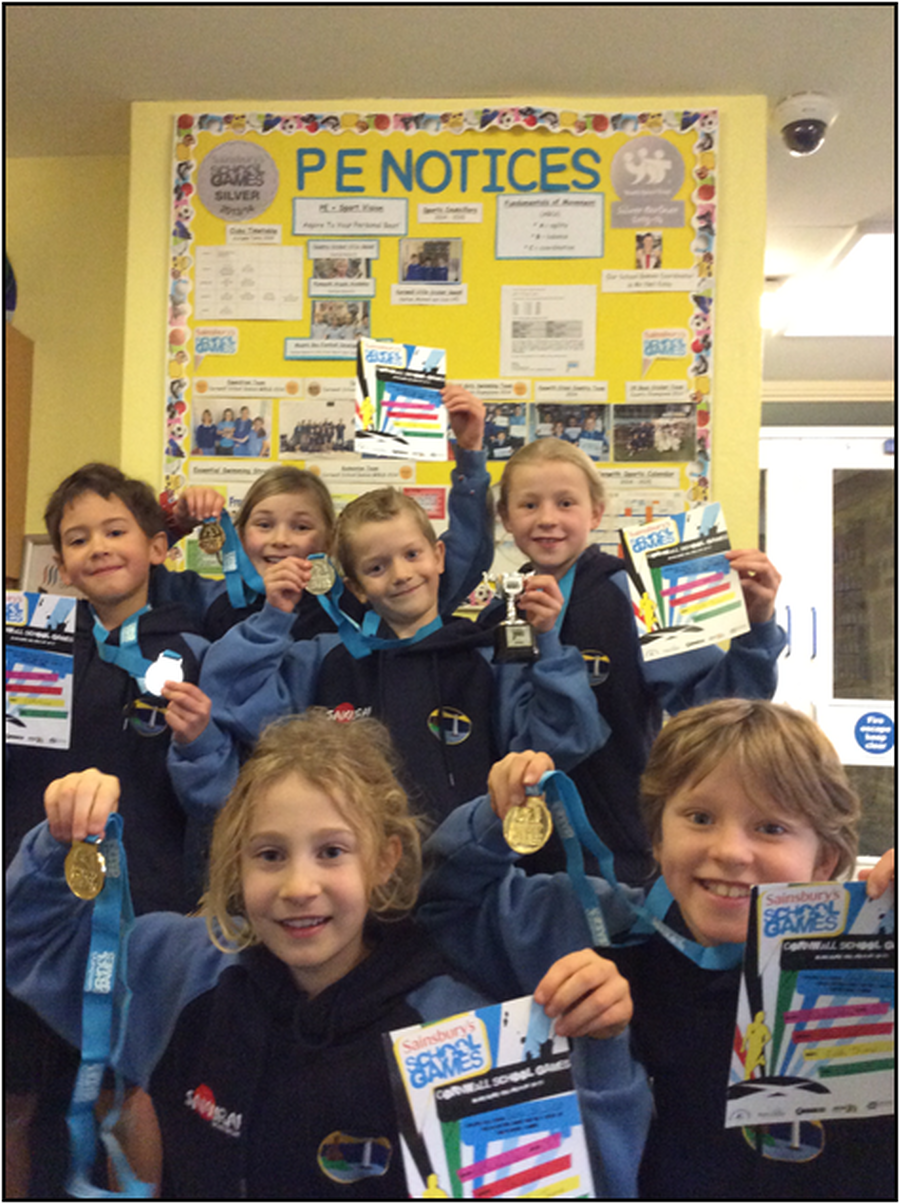 PRIMARY PE & SPORTS PREMIUM STATEMENT
CSFA T.Broad Shield Quarter Final vs Marazion School
On Wednesday, our football team took on Marazion School in the quarter final of the Cornwall Schools Football Association T.Broad Shield.
Marazion began the match passing it in style like the Premier League leaders. However, some determined tackling led to an early chance for Riley who unfortunately struck his shot against the goalkeeper resulting in a corner. It was from this corner that Marazion broke and scored the games first goal. Not to be deterred, the boys knuckled down and matched their opponents physical approach. This tenacity resulted in two quick breakaway goals both scored by Riley, making amends for his earlier missed chance. So, at half time the score was 2 - 1.
Straight from the restart, Marazion attacked and equalised within a few seconds. Despite this set back, the boys continued to withstand frequent attacks keeping the score level at 2 - 2.
Sometimes sport is all about being in the right place at the right time, and on this occasion it was Gabriel who scored the winning goal after another swift counter attack which began when his midfield partner, Dylan, won possession in the middle of the pitch. The timing of the goal seemed to knock the spirit out of our visitors and the boys held on in the final few seconds to claim a well-deserved victory.
Our semi-final opponents are yet to be determined, but we have been draw away.
Team: Harvey P (GK), Tom W, Ry J, Daniel G, Dylan H, Gabriel C, Riley B-C, Niall M-P and Joe W.
Penwith Schools Cross Country No.3 - Hayle School
On Monday after school, 14 children from years 4 - 6 made the journey to Hayle School to take part in the third race in this year's Penwith schools Cross-Country League.
Many of our children achieved their best results so far this season on what was a demanding and tricky course.
Of particular note, Otis H (Y6) continued to dominate the year 6 boys race by claiming his third successive 1st place, while Orla H (Y5) and Hugh W (Y4) achieved 5th position in their respective races.
The final race in this year's league takes place at Cape School on Monday 4th March.
sports premium
Sports Premium Overview 2018 - 2019
'Sports Premium Overview 2017-18'
Healthy Active Lifestyles Days
with Ocean Sports
Both year 5 and 6 enjoyed a water sports day hosted by Ocean Sports,Carbis Bay.
All children got the opportunity to experience different sporting opportunities; Kayaking and Stand Up Paddle boarding (SUP)
The aim of these days was to broaden pupils experience in a range of sports and to introduce new sporting activities to encourage more pupils to take up sport.
Slide show will be added soon
Cross Country Team
Jessie TD, Mari W, George B (Year 6) Hanna TD,
Bo P (Year 5) and Otis H (Year 4)
Y6 Boys South West Regional Finals at Clifton College, Bristol.
As County Champions, the Y6 boys Kwik Cricket team recently embarked on the long journey to Clifton College, Bristol to take part in the South West Regional Cricket finals.
After a long journey, the boys played superbly to win all 3 group matches against Somerset, Wiltshire and Berkshire.
In the semi-final they came up against Hampshire who had a team full of county players.
They again played with great determination but ultimately lost out on a place in the final by just a few runs.
Despite their obvious disappointment on missing out on a place in the final, the boys can be very proud of their achievements. Coincidentally, Hampshire went on to win the final.
In three years together as a team they have played over 25 matches, losing only twice!
A big thank you to all the parents who came and supported the boys in Bristol and to Mr Ken Hall (driver) and Mr Basil Stephens (scorer)
PE NEWSLETTER 1 - Autumn 2016
GET ACTIVE WITH ST JUST PRIMARY SCHOOL.
St Just Primary School, Cornwall show how physical activity and healthier lifestyles across the school as part of their healthy schools and Hearty Lives work can contribute to raising aspiration and achievement...
Click on the Link below to watch our video.
2016/17 PE + School Sport Premium
What does the PE & Sport Premium mean for
St Just Primary School?
At St Just Primary School we have split up the funding by the three key areas for consideration:
Physical Education,

Healthy Active Lifestyles and

Competitive School Sport.
We have decided to spend the PE premium on the following.